today we are learning about the unique types of XYZ cards
so we all know the regular ones? these are just called Xyz but there are even stronger cards.
i will list them here.
Normal XYZ
powerful cards that have lots of powers in its overlay units that activate its effect.
Number XYZ
Number XYZ are stronger then Normal XYZ but theres a catch: Only a number monster can beat a number monster(from the anime) BUT some real life xyz number cards acctually apply to that rule for example Chaos imaginary Numbers 1000: Hollow Light Spirit of Delusion - Numeronius Numeronia witch state in their effect that they cannot be destroyed by reglar cards exept numbers.
Chaos number XYZ
Chaos number XYZ are the second evolution of number XYZ once they are on the field they take a cooler and stronger version of its Regular number form,take Utopia and sharkdrake for example the regular utopia is white and gold but once chaos xyz evolution happens utopia takes a new power and form witch is black and grey ill place some cards below to show you
Chaos numbers arre signified by the C infront of the number and in japan they are infront of the No.Shark Drake takes a nother form in its evolution coming from dark red and black to light red and whiteand some dark blue
Special Number XYZ
Special number XYZ are stronger then chaos coming at a power over 3000!
For example,Utopia and Chaos utopia have 2500 Attack points each but once chaos utopia evolves again it becomes not utopia ray and utopia ray v but Utopia The lightning! ill show you the S number below
these cards are signified by S in the place of C.
Chaos imaginary number
Not really much info on this XYZ type other then Chaos imaginary Number 1000: Hollow Light Spirit of Delusion - Numeronius Numeronia
witch is an extremely powerful card that will force your opponent to attackit and during your opponents turn and he/she doesnt attack your Chaos imaginary Number 1000: Hollow Light Spirit of Delusion - Numeronius Numeronia you will win the duel automatically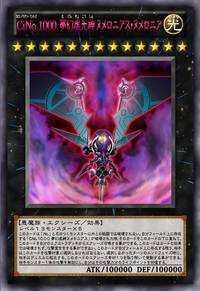 these cards are signified by CI infront of the number